BIS BISS Am/Intl GCh Renaissance Girls Gone Wild JH ROM

BEST IN SHOW
Oklahoma City Kennel Club
June 2009
Breed Judge: Marjorie Martorella
Group Judge: W. Everett Dean Jr
BIS Judge: Marjorie Martorella

GROUP FIRST
Mid-Del-City Kennel Club
June 2009
Breed Judge: Edd Bivin
GROUP FIRST
Fox River Valley Kennel Club
May 2009
Breed Judge: W. Everett Dean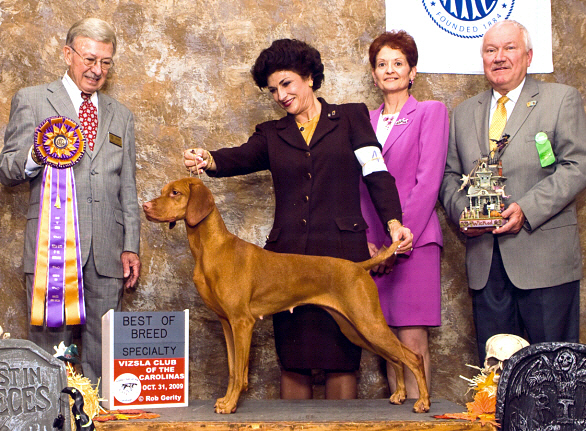 Specialty Best of Breed
Vizsla Club of the Carolinas
Oct 2009
Breed Judge: W. Everett Dean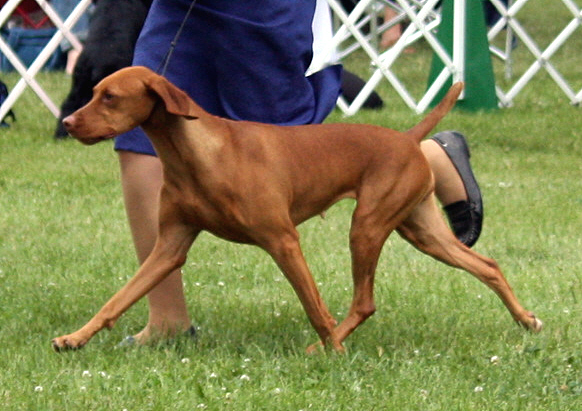 Flirt On The Move in Troy
Flirts EXCELLENT Adventure!







Flirt

(BISS Am/Intl CH Vasara's One For The Kipper JH x BISS Ch Renaissance Step Aside Boys)

Date of Birth: June 26, 2006

Certifications:
CHIC#:
Hips: OFA VZ-11049G26F
Elbows: OFA VZ-EL976F26
Penn-HIP: LH/RH
Thyroid: OFA VZ-TH354/28F
CERF: Normal
DNA Profile # V458071

Owned by: Linda and George Durham

In 2013
Flirt earns her JUNIOR HUNTER title in four straight passes!!
Her adventures continues...

Flirt runs away from home on a week long adventure....ending up INSIDE Wal-Mart!
Only Flirt!!

Now Flirt is enjoying her adventures at summer bird dog camp!


In 2012

#1 TOP PRODUCING BITCH

Flirt raises her second litter sired by
Kato, BIS NBISS BISS Gr Ch Artisan's Grouse Point Pink Panther JH

She is mother to 1 boy and 2 girls
In 2011
Flirt enjoys retirement in preparation for motherhood

Flirt whelped her first litter sired by
Konner, BIS NBISS BISS Gr Ch Renaissance Lord Of Th' Dance SH VC
on 18 April 2011

She is the proud momma to 3 boys and 5 girls
stay tuned...
Flirt comes out of retirement for the 2011 VCA National Specialty and
wins her FOURTH National Specialty Award of Merit.
GO FLIRT!!!
In 2010
#1 Vizsla (FINAL 31 Dec 2010)
2010 VCA National Specialty FIRST Award of Merit
Flirt BREAKS the Specialty BIS record for bitches with 11 WINS!!
Flirt WINS her FOURTH BEST IN SHOW!
Key City Kennel Club in MN
Group Judge: Mr. Stephen Hubbell
BIS Judge: Mrs. Elaine Mathis
In 2009
#1 Vizsla All-Systems (as of 31 Dec 09)
2009 VCA National Specialty FIRST Award of Merit
Vizsla Club of the Carolinas specialty winner under judge Mr. W. Everett Dean, Jr!
Flirt WINS her THIRD BEST IN SHOW!
Louisiana Kennel Club in Kenner, LA
Group Judge: Miss Maxine Beam
BIS Judge: Dr. Ronald I. Spritzer
Flirt WINS another BEST IN SHOW!!
Oklahoma City Kennel Club in Oklahoma City, OK
Group Judge: Mr. Everett Dean Jr
BIS Judge: Ms. Marjorie Martorella
Gateway Vizsla Club specialty winner under judge Mr. Lamar Mathis!


In 2008
#4 Vizsla All-Breed
#5 Vizsla Breed
UCI International Champion
Back-to-Back Group FIRSTS - BBE
Reserve Best In Show - BBE
Multiple Specialty Best in Show winner!
Vizsla Club of Greater New York specialty under judge Mrs. Eva Berg!
Connecticut Valley Vizsla Club specialty under breeder-judge Dr. Richard Hilderman!
Vizsla Club of Greater New England specialty under judge Mr. Don Evans!
THANK YOU JENNA!!
Flirt WINS BEST IN SHOW!!
Chesapeake Virginia Dog Fanciers Association in Chesapeake, VA
Judge: Ms. Denny Mounce
Back-to-Back Group FIRSTS!
Chesapeake Virginia Dog Fanciers Association
Thank you Judges Theresa L. Hundt and Patricia Laurens
Flirts WINS the Sporting Group!
Great Barrington Kennel Club show in W. Springfield, MA

Her debut as a special with handler Jenna Iacobellis
Connecticut Valley Vizsla Club Specialty
Award of Merit
under breeder-judge Mrs. Kathy Rust
Rockland County Kennel Club - Group Two


In 2007
Vizsla Club of America National Specialty
Best in Sweepstakes
under judge Eleanor Rensink
- - and - -
FIRST BITCH Award of Merit
under judge Dr. Donald Sturz, Jr

NEW CHAMPION
Texas Gulf Coast Vizsla Club Specialty
under Breeder-Judge Linda Kelly
Multiple Best of Breed winner from the classes
Puppy BEST IN SHOW

Texas Gulf Coast Vizsla Club Specialty
Best In Sweepstakes

Gateway Vizsla Club Specialty
Best In Sweepstakes
Reserve Winners Bitch

Pedigree

A Top Producing Sire - 2005
BISS Am/Jap/Intl Ch Vasara's One For The Kipper JH
2001 VCA Natl Specialty Stud Dog
BISS Ch Szikra Sport'n Sensation JH ROM
BIS CH Dirigo Gambler's Marker ROM
1996 VCA Natl Specialty Winners Bitch
CH Dirigo Gambler's Windfall
2004 VCA Natl Specialty Brood Bitch
Am/Intl Ch Russet Leather Kitty Hawk JH ROM
#1 Top Producing Sire - 1996
Ch Russet Leather Son Of Sutiao ROM

Russet Leather Red Feather CD
2004 VCA Natl Specialty Award of Merit
BISS CH Renaissance Step Aside Boys ROM
#2 Top Producing Sire - 2004
CH Kizmar Caveat's Wild Ride

BISS CH Rebelrouser Preferred Stock
1998 VCA Natl Specialty Best Of Breed
BIS BISS Am/Can CH Kizmar Caveat's Spellbound JH NA NAJ OJP ROM
A Top Producing Bitch - 2003 & 2004
CH Renaissance Secret Wishes
1997 VCA Natl Specialty Award of Merit
CH Voros Vadasz Cyrus Barat MH ROM
A Top Producing Bitch - 2000
CH Kopertone Gold Empirs Legacy ROM
...her parents


| | |
| --- | --- |
| | |
| Sire: BISS Ch Vasara's One For The Kipper JH | Dam: BISS Ch Renaissance Step Aside Boys |
Proud of her CHAMPION progeny
BIF GCH Renaissance It's Raining Men - Stormy
Group placing
GCH Renaissance Wild Card - Razz
Specialty Select Dog
Am/Can/RBIS Brz/Pan Am CH Renaissance Out With Th' Ladies - Falco
Group placing
GCH Renaissance Never A Dull Moment - Kaos
Specialty Award of Merit
GCH Renaissance Girls Just Wanna Have Fun - Skye
Group placing
CH Renaissance Mistress Of Th' Night - Karri
BOB winner from the classes
Bronze GCH Renaissance Tambopato The Lionhearted - Tambo
Specialty Best of Winners/Award of Merit
Specialty Best in Sweepstakes
GCH Renaissance Sheza Panther Diva - Roo
Group placing
Renaissance Pussycat Doll - Nikki
[Home] [Our Story] [Breeding Goals] [Our Dogs] [Puppies] [Reference Sires]
[Field and Feather] [What's New] [Rainbow Bridge]